A Detailed Buying Guide For The Best Compact Water Softener – Save Space Now!
Hard water is not only a problem for home dwellers but also for those with a traveling bent or who live in trailers or small apartments. Wherever you live, if you use city water or well water, you will find some hard minerals or deposits along with trace amounts of iron.
People get by with hard water because they are used to it. It is only over time that they realize that their clothes look dull and feel sticky even after a shower. Their faucets show gray water spots and rust stains and also develop scale buildup around the head. These are clear signs of hard water, and the impact varies depending on the hardness levels found in your water supply. These are also reasons why people go for a water softener system.
With several water softeners on the market, it may be a little challenging to choose the one most suitable for your needs. You would think small water softeners will work well anywhere.
However, that is not the case. The size of your recreational vehicle or apartment can help you decide on the type of water softener for small spaces – salt-based water softeners or salt-free ones. Additionally, the number of residents that use the water, i.e., water usage, will help choose the size of the water softener that will be effective.
💧 Best Space Saving💧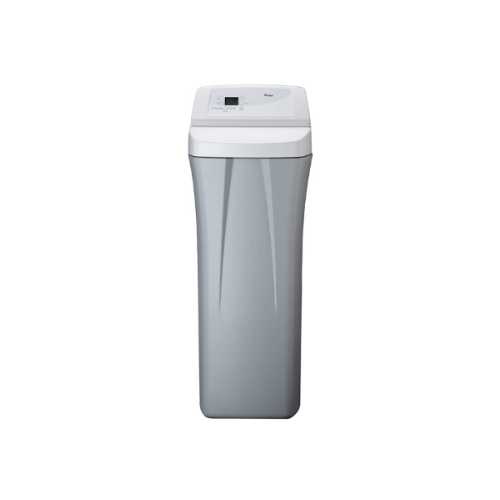 ➟ Product Dimensions: 20.5″L x 15″W x 48″H
➟ Capacity: 30,000 grains
➟ Regeneration Cycle: Demand
➟ Warranty: 1 year
💧 User Friendly 💧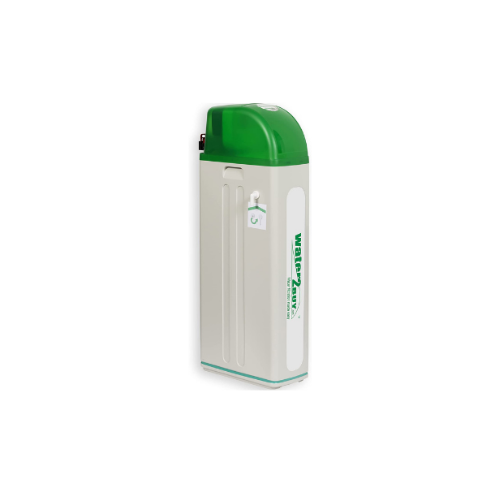 ➟ Product Dimensions: 43.31″L x 8.86″W x 19.69″H
➟ Capacity: 80,000 grains
➟ Regeneration Cycle: Metered
➟ Warranty: 2 years
💧 Premium Resin 💧
➟ Product Dimensions: 23.4″L x 11″W x 10.8″H
➟ Capacity: 16,000 grains
➟ Regeneration Cycle: Manual
➟ Warranty: 1 year
Why do you need a compact water softener?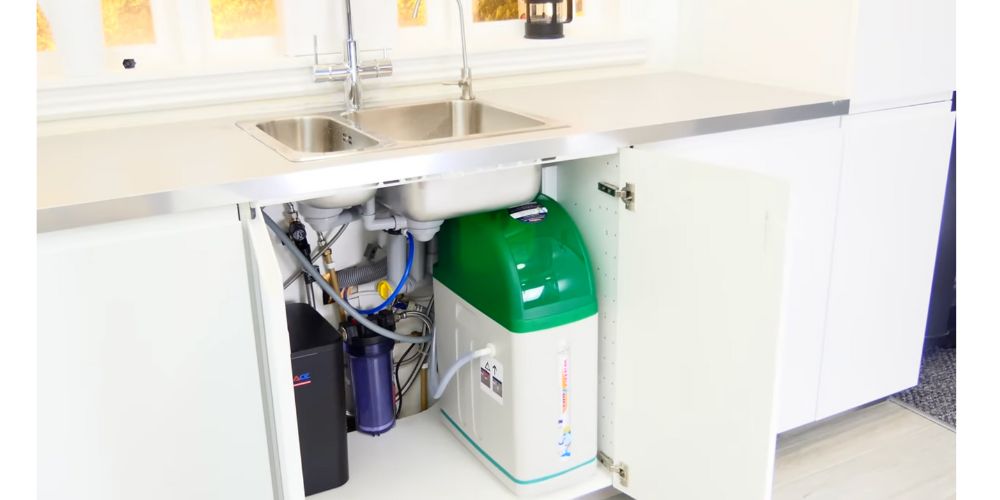 You need a compact water softener because your home is compact. It is as simple as that. The thing with compact water softeners is that they are designed to be most efficient according to the amount of water they have to soften.
But more importantly, they are designed to fit well into the space without reducing the living space, i.e., they are compact and don't occupy too much area hampering the people or their movements.
The Best Compact Water Softener in 2022: Our Answer
The best compact salt-based softener in 2022 is the Whirlpool WHES30E 30,000-grain softener. It is ideal for a small home or an RV. A maximum of four members can enjoy softened water with this system. It has intelligent features that can calculate the amount of water you need and regenerates only when necessary. The digital display alerts you when it is time to add salt. It has a touchpad and a user-friendly interface. It comes with a one-year warranty and can be installed in small spaces.
Why you should trust us?
We have done the research and studied different water softeners to narrow down to the below eight compact units. This shortlist includes compact water softeners reviewed by experts to make it easy for you to choose the right one for your needs.
You will find that a guide with the pros and cons of the more efficient water softener systems is a huge help when surrounded by several brands and units. The shortlist of eight compact water softeners includes a product description and each one's pros and cons to having all the pertinent information you need.
Comparing Top 8 Compact Water Softeners
✔ Space-saver 
✔ Ideal for households of 1-4 people
✔ Automatically calculate how much salt and water

✔ Ensures complete limescale-free water
✔ Automatic self cleaning
✔ Built to last

✔ Can be installed in the tightest places.
✔ Quick & simple regeneration
✔ high-grade premium resin

✔ High grade NSF materials
✔ Regenerates in under 30 minutes
✔ Fully assembled unit 

✔ Autosense Technology 
✔ Low salt indicator light
✔ Can be used with both city and private well water sources

✔ Highly Efficient Tank
✔ Built-In Self Cleaning
✔ Compact & Convenient Model

✔ IntelliSoft Technology
✔ Space Saving Design
✔ Ultra Cleansing Feature

✔ Removes soluble calcium and soluble iron
✔ Compact, space saver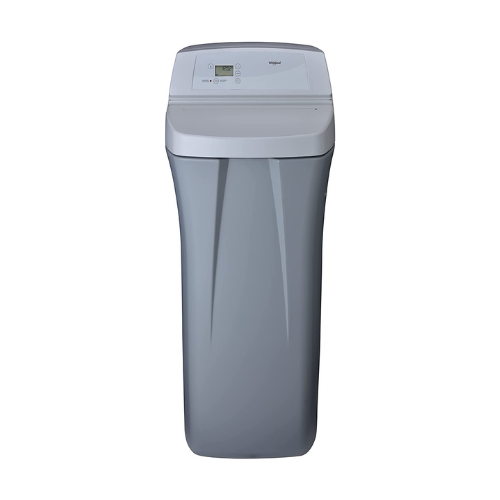 Whirlpool WHES30E 30,000 Grain Softener is one of the best compact water softeners suitable for a household of up to 4 members. The device comes with the intelligent feature of calculating the water requirements of your household. Thus a regeneration of the system happens only when there is a requirement.
Whirlpool WHES30E 30,000 Grain Softener is also user-friendly with a digital display and touchpad to felicitate ease of usage. The display will show alerts when the salt levels are low, thus reducing human interference much more.
This device saves a lot of salt and water due to its intelligent regeneration feature. The regeneration cycle usually happens in the off-hours when the water usage is minimum.
This device is capable of softening hard water up to 95 gpg. This is a great softening rate compared to many other water softeners on the market today. When such soft water runs through the lines, the risks of a clogged water line in the household are eliminated. The grain capacity of this device, as the name suggests, is 30,000. It is enough for a medium-sized home with up to 4 members.
Pros
Whirlpool WHES30E 30,000 Grain water softener has an effective grain capacity and is really compact.
Demand-initiated regeneration helps to reduce water and salt wastage.
It has a touchpad control and shows the salt quantity reading.
This device has a memory retention technique, making it a power-cut-safe device.
The flow rate of this device is 7.6 GPM which is ideal for a medium-sized household.
There is a 1-year full warranty on all the parts.
Cons
Tiny leaks in the bypass valve have been found.
Water2Buy W2B800 Meter Water Softener is the best option for a family looking for undisrupted soft water flow day in and day out. It is a self-sufficient and intelligent device to save water and salt for you. The auto regenerative system with a 1060-gallon capacity can cater to the needs of a 10-member household.
Water2Buy W2B800 Meter Water Softener can be easily connected to the main supply line which enters the house. In doing so, the water that reaches you from all the outlets in the outlet will be softer and fresh. Regardless of the number of hard minerals, this device can soften large volumes of water, which can suffice for a large family.
The dimensions of Water2Buy W2B800 Meter Water Softener are just within the right limit to fit into your garage, kitchen cupboard, or basement. This device is equipped with a digital meter to give you timely alerts on the salt level, regeneration time, etc.
When the system's regeneration happens out of the peak hours of the day, the question of soft water shortage is naturally out of the equation. This new generation product has a mobile application that can be synced with your mobile for ease of usage.
Pros
Water2Buy W2B800 Meter Water Softener is made of fiberglass, which will eliminate the chances of lime sedimentation/buildup in the tank.
Self-regeneration helps in reducing water and salt wastage.
Less power consumption and high efficiency are guaranteed.
Suitable for large families with small areas to spare for water softeners.
Cons
The app and website of the Water2Buy W2B800 Meter Water Softener do not effectively act as a comprehensive installation guide or repair manual.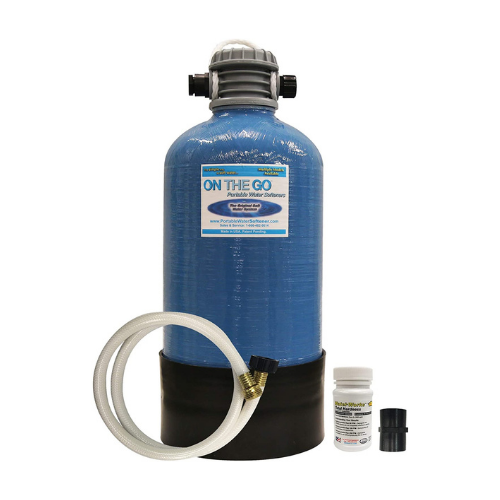 It is not very often you come across a water softener like the On The Go OTG4-DBLSOFT-Portable 16,000 Grain RV Water Softener that can replenish and soften the hard water on the go. Best suited for RVs, this water softener is compact and does not need electricity to run.
If you are a travel enthusiast, then On The Go OTG4-DBLSOFT-Portable 16,000 Grain RV Water Softener is your best option. It can produce a whopping 1600 gallons of water per day for the user.
On The Go OTG4-DBLSOFT-Portable 16,000 Grain, RV Water Softener only requires two boxes of common salt to give such output. This device can be connected to an outlet in a campground using a garden hose.
Pros
On The Go OTG4-DBLSOFT-Portable 16,000 Grain, RV Water Softener has a high grain capacity compared to its peers in the market.
Can soften larger quantities of water with the highest efficiency.
Has a high flow rate and decent outflow pressure
Does not require electricity to function.
Compact and fit into any tight space in the RV.
Cons
Absence of a digital or analog display to warn about regeneration.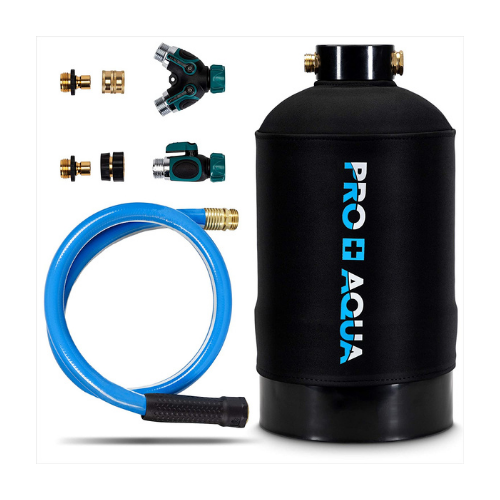 A complete RV water softening solution is the most righteous term for Portable RV Water Softener 16,000 Grain PRO Premium Grade, Trailers, Boats, Mobile Car Washing, High Flow 3/4″ GH Ports. It is a food-grade water softener that has NSF-certified resin beads. The resin bed contains beads inside a polyethylene inner shelf. The fiberglass wrap makes the device robust.
The outlet is a ¾" in and out garden hose nozzle. It can also be connected to a female-to-female connection for regeneration purposes. This device does not require any electricity to operate. The unit comes as a ready-to-use model, so the hassles of assembling are also taken care of. The compactness helps in fitting the unit to any tight spot in the RV or boat.
Pros
It does not require electricity for its operation.
Durable and robust design and has many layers of protection.
Has NSF-certified resins which are also food grade.
This device is ready to use and requires no tools at all for installation.
Comes with a pre-filter for easy regeneration
Cons
This water softener is more expensive than its peers, with similar capacity and efficiency.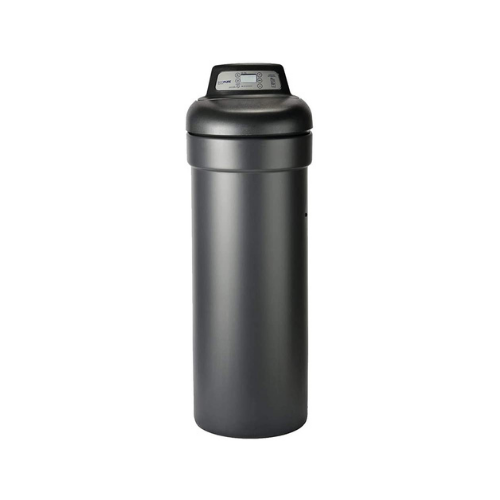 EcoPure EP31 31,000 Grain Softener is a water softener that can be used in both city and well waters. The softening capacity of this device makes it popular. It has a high grain capacity and softens your household water like magic.
The demand-initiated regeneration is a feature that helps save water and salts to a great extent. The digital display offers much information to the users on the regeneration time, amount of salt left in the system, etc. The NSF-certified device is the best option for a household of up to 4 people.
Pros
The smart regeneration technique saves water, salt, energy, and time.
Ease of installation and user-friendly digital display.
Dimension-wise, this device is also the perfect fit for the garage or kitchen.
It can be used with both city and well water.
Cons
The water softener has a muddled-up warranty scheme. Users get a five-year warranty only if they register online with the company.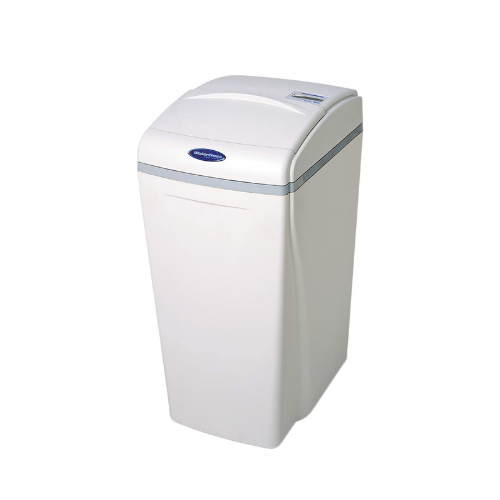 WaterBoss 22,000 Grain Water Softener System is the perfect choice for people looking for hassle-free water softening experience. It has many safety features that give consumers a more secure user experience.
The device has a factory-installed bypass system. This makes the water softener filter perform longer hours without replacement. This water softener can soften water in lesser time and has minimum sound emission while regenerating. So it can be kept inside the household, even in a tight corner, because of its compact size.
WaterBoss 22,000 Grain Water Softener System has a demand-initiated regeneration system that saves a lot of water and salts. It also houses a safety shutoff feature that enables a safer operating environment. It also has a digital meter which felicitates user experience.
Pros
Can soften water in 20 mins with the minimum use of salt.
A digital display to show the status of salt, regeneration, and amount of soft water left in the system.
Regeneration can be pre-set to convenient timings.
Added safety features in the device like the bypass valve and a safety shutoff feature.
Cons
The users find it hard to reach the company's customer service portal for grievance redressals.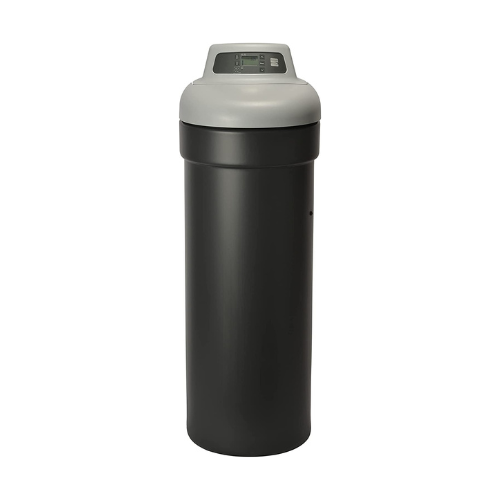 Kenmore 350 Water Softener With High Flow Valve is a DIY-friendly water softener that can be easily installed. This device can soften large volumes of water at short intervals. It has an in-built screen that prevents larger sediments from entering your household water line, thus saving the water lines from clogging unnecessarily.
Kenmore 350 Water Softener With High Flow Valve is a great choice for those people with a medium water requirement in the household. This device can cater to a 1- 4 member household, and its intelligent system is equipped with features like auto regeneration and soft water level identification. This helps a great deal in reducing electricity bills and other overhead expenses.
This device is low maintenance and has a detailed user manual that helps with almost all the potential problems. Some of the pros and cons of this water softener are listed below.
Pros
Built-in sediment prevention screen for the longevity of equipment filters.
On-demand regeneration system.
NSF-certified parts are used in this device.
Eco-friendly and compact design.
Digital display that tells even the current water flow
Cons
Longer regeneration time.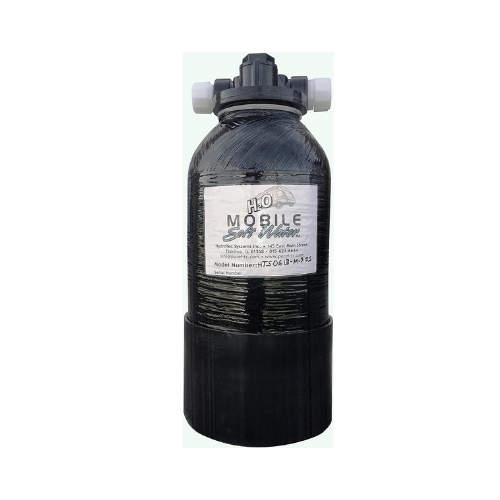 An ideal compact water softener that has a surprisingly higher water flow rate and softening capacity. This device is best suited for RVs and boots. The robust construction of the device ensures a longer lifecycle. It is an NSF-certified product that is totally eco-friendly and economical.
Mobile-Soft-Water Portable Softener 3.2 Kgr does not require electricity to operate. It can be connected to any water inlet using a garden horse. But the absence of a digital display is a major disadvantage of this device.
The device can soften 5 gallons of water in under 1 minute. This high softening rate has brought about a certain trust for this product in the market. It can soften 16000 gallons before regeneration.
Pros
High water softening rate and maximum efficient system.
Do not require electricity.
It can be connected to any water outlet.
Low maintenance is another highlight of this device.
It is a ready-to-install unit that can be installed with minimum plumbing knowledge.
Cons
The package needs to be checked thoroughly at the time of installation for missing hardware components.
Things To Consider Before Buying A Compact Water Softener
While it may be time to invest in a compact water softener, there are still a few factors to consider – the size of the unit and the type of water softener, including the features and controls.
The first thing to do is assess the number of people in your home and multiply the number by 75, which is the average number of gallons per day per person. This number can get further multiplied by the number of GPG of hardness minerals to arrive at the capacity of the compact water softener you need.
Now that you have the size all figured out, you can look for the controls to understand the unit's regeneration cycles, how much salt will be needed, and whether it has automatic features that alert you when salt is needed, and the water softener timer to automatically recharge the system at a set time and day each week based on the water usage.
The 2nd type is the one that offers demand-initiated regeneration (DIR) controls, which know when the resin beads need to be recharged with a meter that calculates water usage. It saves salt and water because the unit will only regenerate when necessary.
The

Verdict
Our final verdict is the Whirlpool WHES30E 30,000-grain water softener. After our research and by studying the customer reviews of compact water softeners, we have concluded that the Whirlpool WHES30E is the winner in 2022, and will ensure improved water quality.
Frequently Asked Questions:
1. Who makes the most efficient water softener?
There are a few different ways to measure efficiency. Some people think it's about how much salt a water softener uses, but that's not necessarily true. Some water softeners use more salt than others because they need to run longer cycles in order to soften the water.
Other units have small tanks and have to refill frequently, which means they use more salt than other units with larger tanks. What you should really care about is how much of that salt actually gets used to soften your water.
We call this hardness removal efficiency because we're measuring how much of the hard stuff in your water gets taken out by the softener. The higher that number is, the more efficient your unit is at taking out dissolved minerals like calcium and magnesium from your water supply.
The most efficient water softener is one that removes the maximum amount of hardness from your water without using too much energy or salt. It should also be easy to use and maintain.
The best way to find out which one is right for you is to compare the various models available and find one that meets your needs at an affordable price point. There are several water softener manufacturers who make efficient products. Some questions you can ask yourself to determine who makes the most efficient water softener are as follows:
Does it remove enough hardness from your water?
How much does it cost?
Is it easy to maintain?
If you find a water softener manufacturer who is able to answer yes to all three questions, you can be assured that your water softener will be efficient
2. How much salt does a compact water softener consume?
A compact water softener is a good choice for those who want to save space, but still, have access to the benefits of soft water. These compact models have a smaller tank and are often installed in the basement, behind the washer or dryer. It has some advantages over other types of water softeners because it doesn't require a large storage tank, so it's easier to install in areas with limited space.
The compact water softener also uses less energy than other types of systems because no electricity is required to run the system. However, if you are looking for a more efficient way to use your compact water softener, consider using less salt each month.
Most people think that using more salt will make their water softer, but this is not entirely true. The amount of salt used does not change how much water is softened or how well it cleans clothes.
The amount of salt used depends on how hard your water is and how many people live in your home. The more people who live in your home and the harder your water is, the more salt is needed to soften it.
How much salt a compact salt-based water softener consumes depends on how many gallons of water you use each day, but typically ranges from 0.25 pounds to 0.5 pounds per gallon. This means that if you have an average daily consumption of 10 gallons per day (GPD), then the amount of salt consumed would be between 2 and 5 pounds per month or 48 pounds per year for this size household.
The good news is that compact water softeners use very little salt compared with other types of water softeners. They'll consume about 1/4 of what other types use in just one year. That means that if your home uses 20 pounds per month normally, which is pretty standard, then your compact water softener will only use 5 pounds during its lifespan.
3. How to soften hard water in small batches?
If you have hard water, you know it can be a hassle to wash your clothes, dishes, and other items. The mineral deposits left behind after the rinse cycle can cause several problems. Luckily, there are ways to soften your water in small batches so that you never have to deal with mineral deposits again.
If you're trying to soften hard water for laundry or dishwashing, consider switching your detergent over to an organic one. These detergents tend to be more effective at removing mineral buildup than traditional detergents, which often rely on chemical additives and perfumes to keep things smelling fresh.
If you want to try something at home before switching over all of your laundry supplies and dishwashing products, consider adding a cup or two of distilled white vinegar into each load as you wash it. This will help cut through some of those stubborn mineral deposits and leave us with better water quality.
When you are softening your hard water in small batches, make sure you have enough water to get the job done. It takes about 2 gallons of soft water to replace 1 gallon of hard water. So if you want to soften 5 gallons, you'll need 10 gallons of soft water.
Also, be careful not to mix up the batches with other hard-water batches or soft-water batches. If you mix them up, your soap won't lather up as well and will be less effective in cleaning.
Keep in mind that the more concentrated your solution is, the faster it will work, but it might leave a residue on your skin or hair that could cause health problems like eczema or dandruff.
The best way to soften hard water in small batches is with a water softener. This device removes the calcium and magnesium from your water, making it so that you don't have to deal with mineral deposits any longer.
Water softeners are usually installed in your home's plumbing system, but they can also be used as an individual appliance that sits next to your sink or bathtub. These appliances are called point-of-use water softeners, and they're great for households that require on-demand soft water.
4. What happens if you get a water softener that is too small?
If you get a water softener that is too small, it can cause problems. The main issue is that the unit won't be able to remove enough of the hardness from your water, and it will have to work harder than it should. This means that it will wear out faster as well.
A smaller unit is also more likely to clog, which will cause it to stop working altogether. This can be especially problematic if you have a larger home or one that has a higher usage rate than average. If this is the case, it's important for you to consider whether or not the unit you have chosen is able to handle the amount of water that is used on a daily basis.
If your home uses more water than normal and it's been determined that this extra usage will continue, then there are some steps that can be taken to ensure that it doesn't lead to problems later down the road.
For example, if you're using more than 1,000 gallons per day and want to use a smaller model, then you should consider installing two smaller units instead of one large one. This will allow both units to operate at optimal levels without having issues with efficiency or performance over time due to overuse by either one individually.
The best thing to do if you think that your water softener is too small would be to talk with someone who can help you determine what the right size would be for your needs. They will take into account things like how many people live in your household and how much laundry they do per week so that they can make sure that the unit won't have any issues with clogging or wearing out quickly due to overuse.
Conclusion
When you live in a small apartment or are camping somewhere on your travels, you would need a compact water softener. The ideal solution to enjoy softened water without interruption is to install a compact water softener. This article aims to guide you on the search, so you don't have to start from scratch.
Therefore, if you have a small space and are looking for a unit that doesn't cramp your living quarters, look no further. You can easily improve the water supply with softened water 24×7.
About The Author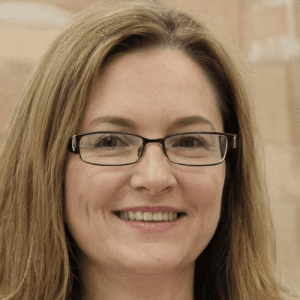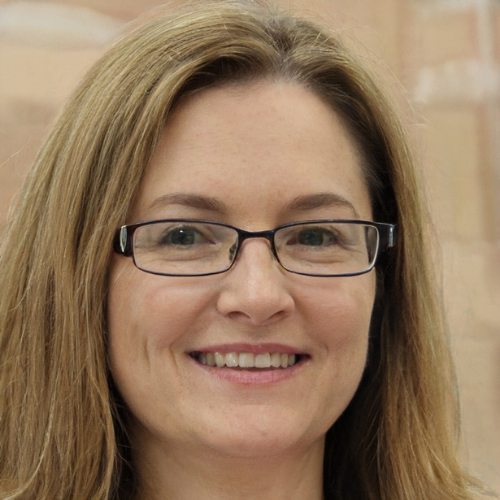 Judith— a passionate water treatment specialist — is a wastewater management enthusiast, clean drinking water advocate, and someone with deep personal experience and knowledge about various water equipment. Her work was mentioned in countless notable water associations. Previously she was an editor at Water Alliance.